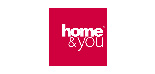 home&you
Open today
From 10:00 AM to 10:00 PM

691 910 176
home&you is a unique brand when it comes to decorating homes. It provides not only a very wide range of accessories, fabrics, interior decoration accessories. Above all, it provides valuable inspirations, allows to create, search for one's own, unique style. The most extensive offer concerns the living room, however, at home&you customers buy many spectacular products, which can decorate other rooms.
home&you showrooms are not only a wide selection of home textiles and elements for interior decoration, but above all interesting inspirations for customers, careful arrangements and the pleasure of communing with the original design. Home&you windows are our calling card. They attract the eye with their careful arrangement and cosy atmosphere. The good style of our presentations is supervised by professionals.
While creating window displays we do not forget about current occasions and holidays and we do our best to highlight our seasonal offer. Our products are in line with the latest trends in interior design. From the huge number of proposals appearing on the market, we choose for our customers products of the highest quality, which help to arrange cosy and harmonious interiors of their homes. Diversity of the collection, a wide range of prices and numerous promotions mean that every customer can find something for themselves.
Opening Hours
Monday

· From 10:00 AM to 10:00 PM


Tuesday

· From 10:00 AM to 10:00 PM


Wednesday

· From 10:00 AM to 10:00 PM


Thursday

· From 10:00 AM to 10:00 PM


Friday

· From 10:00 AM to 10:00 PM


Saturday

· From 10:00 AM to 10:00 PM


Sunday

· From 10:00 AM to 9:00 PM