Niedziele handlowe 11 i 18 grudnia
11 i 18 grudnia to niedziele handlowe! Wszystkie sklepy, restauracje oraz punkty usługowe w Westfield Arkadia są otwarte. Zapraszamy za zakupy!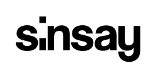 SINSAY
Open today
From 10:00 AM to 10:00 PM

785 003 401
SiNSAY dedicates its collections to girls who are looking for inspiration for everyday styling, but also for original party sets. Diversity, unique designs firmly embedded in the latest trends, bold patterns and prints are undoubtedly the main advantages of the SiNSAY brand's offer. The trademark of the brand are T-shirty with bold patterns and prints, as well as non-standard accessories. According to the motto of the brand "I'm good but not an angel" designs are created for girls who are not afraid of fashion experiments, consciously create their image, and who one minute look like gentle sensitive romantics, only to show their original, bold style the next.
Opening Hours
Monday

· From 10:00 AM to 10:00 PM


Tuesday

· From 10:00 AM to 10:00 PM


Wednesday

· From 10:00 AM to 10:00 PM


Thursday

· From 10:00 AM to 10:00 PM


Friday

· From 10:00 AM to 10:00 PM


Saturday

· From 10:00 AM to 10:00 PM


Sunday

· From 10:00 AM to 9:00 PM