Niedziele handlowe 11 i 18 grudnia
11 i 18 grudnia to niedziele handlowe! Wszystkie sklepy, restauracje oraz punkty usługowe w Westfield Arkadia są otwarte. Zapraszamy za zakupy!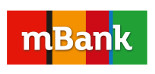 MBANK
Open today
From 10:00 AM to 9:00 PM

509 709 938
We recommends the offer of mBank's Financial Services Centre. This valued and award-winning bank was established in 2001 as the retail part of BRE Bank. Since then, it has constantly increased the number of satisfied customers and has received numerous awards and distinctions. The bank's offer is addressed to individual clients and enterprises, and includes a wide range of loans, accounts and deposits. Professional and courteous advisors at the mBank branch guarantee high quality advice, which perfectly supports the bank's attractive offer.
Opening Hours
Monday

· From 10:00 AM to 9:00 PM


Tuesday

· From 10:00 AM to 9:00 PM


Wednesday

· From 10:00 AM to 9:00 PM


Thursday

· From 10:00 AM to 9:00 PM


Friday

· From 10:00 AM to 9:00 PM


Saturday

· From 10:00 AM to 9:00 PM


Sunday

· From 10:00 AM to 9:00 PM