Niedziele handlowe 11 i 18 grudnia
11 i 18 grudnia to niedziele handlowe! Wszystkie sklepy, restauracje oraz punkty usługowe w Westfield Arkadia są otwarte. Zapraszamy za zakupy!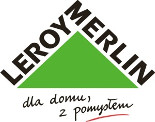 Leroy Merlin
Open today
From 6:30 AM to 10:00 PM

22 591 88 00
Leroy Merlin in shopping center has been operating continuously since 2004. During this time it has won the trust of customers who appreciate the comprehensive offer, quality and the fact that over 80% of the products offered here come from proven Polish manufacturers and distributors. The offer of this large construction store is addressed both to do-it-yourselfers, homeowners, as well as construction, design and installation companies. It is difficult to list the whole assortment of the store, but it is worth knowing that the purchases of building materials, repair finishing materials, woodwork, tools and power tools can be made here.
Leroy Merllin also includes furniture and accessories for kitchens, bathrooms, decorative elements for home and garden. From the foundations to the spectacular night lamp and decorative candles - all under one roof at Leroy Merlin.
Opening Hours
Monday

· From 6:30 AM to 10:00 PM


Tuesday

· From 6:30 AM to 10:00 PM


Wednesday

· From 6:30 AM to 10:00 PM


Thursday

· From 6:30 AM to 10:00 PM


Friday

· From 6:30 AM to 10:00 PM


Saturday

· From 6:30 AM to 10:00 PM


Sunday

· From 9:00 AM to 9:00 PM