Niedziele handlowe 11 i 18 grudnia
11 i 18 grudnia to niedziele handlowe! Wszystkie sklepy, restauracje oraz punkty usługowe w Westfield Arkadia są otwarte. Zapraszamy za zakupy!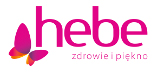 HEBE
Open today
From 10:00 AM to 10:00 PM

Hebe is a modern drugstore that offers its customers a carefully selected, varied assortment and exclusive products - all at excellent prices. Hebe's modern concept is a combination of two formats, a chemist's and a pharmacy. At our stores, we additionally offer a wide range of skincare cosmetics and make-up products. Our unique interior design, consistent vision and shopping convenience are factors that let Hebe stand out from our competitors.
Opening Hours
Monday

· From 10:00 AM to 10:00 PM


Tuesday

· From 10:00 AM to 10:00 PM


Wednesday

· From 10:00 AM to 10:00 PM


Thursday

· From 10:00 AM to 10:00 PM


Friday

· From 10:00 AM to 10:00 PM


Saturday

· From 10:00 AM to 10:00 PM


Sunday

· From 10:00 AM to 9:00 PM