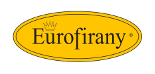 Eurofirany
Open today
From 10:00 AM to 10:00 PM

519049388
Eurofirany - tutaj znajdziesz wszystko, czego potrzebujesz do stworzenia niepowtarzalnych aranżacji w swoim domu. Od ponad 30 lat pasję do pięknych wnętrz łączymy z najwyższą jakością oferowanych produktów i świadczonych usług. 
Oferta naszej marki to przede wszystkim wysokiej jakości tkaniny do dekoracji okien – firany, zasłony, rolety, tekstylia, takie jak narzuty, pościele czy ręczniki, a także dodatki - ceramika dekoracyjna i artystyczna, kwiaty, obrazy, dekoracje świąteczne i wiele innych dodatków. 
W naszym salonie możesz także skorzystać z kompleksowej usługi przygotowania i realizacji indywidualnego projektu i aranżacji okna. Nasi pracownicy to wyspecjalizowana kadra dekoratorów i sprzedawców, którzy chętnie pomogą w stworzeniu niepowtarzalnego wnętrza w Twoim domu. 
Opening Hours
Monday

· From 10:00 AM to 10:00 PM


Tuesday

· From 10:00 AM to 10:00 PM


Wednesday

· From 10:00 AM to 10:00 PM


Thursday

· From 10:00 AM to 10:00 PM


Friday

· From 10:00 AM to 10:00 PM


Saturday

· From 10:00 AM to 10:00 PM


Sunday

Closed