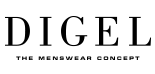 Digel
Open today
From 10:00 AM to 10:00 PM

795 525 197
Salon Digel to flagowy sklep firmowy i pierwszy monobrandowy punkt sprzedaży marki Digel w Polsce. Digel tworzy innowacyjną i kreatywną modę dla mężczyzn, którą wyróżniają stylizacje zgodne z aktualnymi trendami równocześnie stawiające na indywidualność, komfort noszenia oraz bardzo dobra relacja jakości do ceny. Mocne strony marki to także: najszersza oferta systemów modułowych (garnitury Mix&Match) w Europie, linie odzieży dedykowane różnym sylwetkom, dostępność asortymentu w ciągu 24-godzin oraz skierowane na różne okazje kolekcje marki Digel (Preference – linia premium, Protect 3 – idealna na podróż, Ceremony – na ważne życiowe wydarzenia, Move - niezależna kolekcja łącząca świat biznesu i lifestylu, sportowy luksus i miejski styl,nowoczesne i dopasowane kształty). Każdy mężczyzna może uzupełnić tu garderobę o oryginalne marynarki, kamizelki, koszule i spodnie, a także płaszcze i kurtki oraz atrakcyjne dodatki i szeroki wybór stylowych butów – nowość marki Digel.
Opening Hours
Monday

· From 10:00 AM to 10:00 PM


Tuesday

· From 10:00 AM to 10:00 PM


Wednesday

· From 10:00 AM to 10:00 PM


Thursday

· From 10:00 AM to 10:00 PM


Friday

· From 10:00 AM to 10:00 PM


Saturday

· From 10:00 AM to 10:00 PM


Sunday

Closed
See all offers
*Offers are subject to availability. Offres can not be redeemed in cash. Only one offer per person and visit is allowed. Offers can not be used in combination with other offers and vouchers. Offers ar not valid on purchase of gift cards or other prepaid payment products.
---