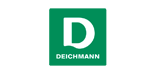 DEICHMANN
Open today
From 10:00 AM to 10:00 PM

693 301 136
Nowadays shoes are not only an addition to the outfit, but increasingly determine its character, constituting the most important element.
A trip to find the perfect shoes often ends in the DEICHMANN showroom, where you can buy comfortable moccasins, elegant shoes and extravagant high heels and classic pumps. Large space, a clear system of shoe display and friendly staff create a land of fulfilled dreams for all enthusiasts of fashionable, stylish footwear.
Deichmann is a unique shop that offers the widest selection of shoes, a range of brands, shoes in which you always stay one step ahead of the trends and reach your destination. It would be hard to name all the shoe brands available in the showroom. But it is enough to mention names such as Graceland, 5th Avenue, Victory, AM Shoes, Adidas, Nike, Reebok, children's Elefanten and Baren-Schuhe, Kappa, Disney, Corelli or Catwalk. 
Deichmann is the only company in the market to offer such a wide range of shoes for virtually any occasion - from sports to business. The company's offer includes both the latest trends, as well as the everlasting classics.
Opening Hours
Monday

Closed

Tuesday

· From 10:00 AM to 10:00 PM


Wednesday

· From 10:00 AM to 10:00 PM


Thursday

· From 10:00 AM to 10:00 PM


Friday

· From 10:00 AM to 10:00 PM


Saturday

· From 10:00 AM to 10:00 PM


Sunday

Closed
See all offers
*Offers are subject to availability. Offres can not be redeemed in cash. Only one offer per person and visit is allowed. Offers can not be used in combination with other offers and vouchers. Offers ar not valid on purchase of gift cards or other prepaid payment products.
---