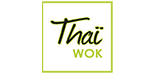 THAI WOK
Open today
From 10:00 AM to 10:00 PM

693 230 341
Kuchnie Dalekiego Wschodu, orientalne smaki cieszą się ogromnym zainteresowaniem. Wychodząc na przeciw amatorom egzotycznych potraw zaprasza do restauracji THAI WOK, która oferuje dania kuchni japońskiej i tajskiej. Bogactwo aromatów, smaków i kolorów jest pokusą nie do odparcia dla wielu smakoszy. Zapach pysznych dań serwowanych w THAI WOK każdego dnia przyciąga wielu klientów. Nic dziwnego skoro tajemnica sukcesu tkwi w świeżych, naturalnych produktach, oryginalnych, aromatycznych przyprawach, które zapewniają egzotyczny smak. Menu THAI WOK poleca przystawki, zupy oraz dania główne. Restauracja serwuje specjały takie jak słynne Spring Rolls czyli sajgonki, zupa z kurczaka z kokosowym mlekiem czy pożywne dania wegetariańskie, z drobiu, owoców morza, cielęciny, wołowiny i kaczki. Nie może oczywiście zabraknąć słynnego, tajskiego curry, makaronu sojowego i ryżowego, kolorowych warzyw, a także sushi z restauracji Matsu Sushi & Tai.
Opening Hours
Monday

· From 10:00 AM to 10:00 PM


Tuesday

· From 10:00 AM to 10:00 PM


Wednesday

· From 10:00 AM to 10:00 PM


Thursday

· From 10:00 AM to 10:00 PM


Friday

· From 10:00 AM to 10:00 PM


Saturday

· From 10:00 AM to 10:00 PM


Sunday

· From 10:00 AM to 9:00 PM

See all offers
*Offers are subject to availability. Offres can not be redeemed in cash. Only one offer per person and visit is allowed. Offers can not be used in combination with other offers and vouchers. Offers ar not valid on purchase of gift cards or other prepaid payment products.
---