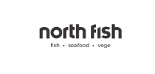 North Fish
Open today
From 10:00 AM to 10:00 PM

22 331 29 16/17, 664 998 241
North Fish to restauracja specjalizująca się w rybach, owocach morza i daniach wegetariańskich. W ofercie znajdują się produkty takie jak łosoś norweski, dorsz czarny, mintaj, wyśmienite zupy, kanapki z bułką wypiekaną na miejscu, świeże sałatki, surówki, naturalne lemoniady i smoothie przygotowywane na miejscu każdego dnia. To, co łączy wszystkie produkty to zdrowie oraz najwyższa jakość.
Restauracja udowadnia, że dobre jedzenie nie musi dużo kosztować. Dzięki unikalnej formule dodatków "Nałóż ile chcesz" to Ty decydujesz co i ile zjesz. To doskonała propozycja zarówno dla osób chcących zjeść solidny obiad, jak i dla tych, którzy mają ochotę lekką przekąskę.
North Fish to w 100% polska marka, lecz w swoich działaniach czerpie inspiracje z Norwegii – miejsca, gdzie, ceni się jakość i doskonałość.
To świetna restauracja dla każdego, idealna na spotkania z przyjaciółmi przy wspólnym stole, dla dzieci i całych rodzin.
Opening Hours
Monday

· From 10:00 AM to 10:00 PM


Tuesday

· From 10:00 AM to 10:00 PM


Wednesday

· From 10:00 AM to 10:00 PM


Thursday

· From 10:00 AM to 10:00 PM


Friday

· From 10:00 AM to 10:00 PM


Saturday

· From 10:00 AM to 10:00 PM


Sunday

· From 12:00 PM to 8:00 PM

See all offers
*Offers are subject to availability. Offres can not be redeemed in cash. Only one offer per person and visit is allowed. Offers can not be used in combination with other offers and vouchers. Offers ar not valid on purchase of gift cards or other prepaid payment products.
---