Niedziele handlowe 11 i 18 grudnia
11 i 18 grudnia to niedziele handlowe! Wszystkie sklepy, restauracje oraz punkty usługowe w Westfield Arkadia są otwarte. Zapraszamy za zakupy!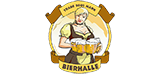 Bierhalle
Open today
From 12:00 PM to 10:00 PM

601 677 962
Bierhalle is an original concept combining the unique taste of beer brewed on the premises with excellent cuisine and great service, inspired by the experience and expertise of brewer-restaurateurs from Poland and Bayern. The main attraction of Bierhalle is the opportunity to observe the entire brewing process thanks to our unique glass brewhouse. The flagship product of our restaurant is the "Oven-baked Pork Knuckle", a perfect meal to pair with our beer... And, of course, that is just the beginning - we can offer our guests so much more!
See all offers
*Offers are subject to availability. Offres can not be redeemed in cash. Only one offer per person and visit is allowed. Offers can not be used in combination with other offers and vouchers. Offers ar not valid on purchase of gift cards or other prepaid payment products.
---