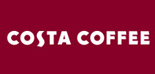 Costa Coffee - wyspa
Open today
From 10:00 AM to 10:00 PM

664 469 441
COSTA COFFEE to pierwsza sieć kawiarni w pełni kontrolująca proces przygotowania kawy, od pozyskania ziaren, przez specjalny proces wolnego wypalania, aż po mistrzowskie przygotowanie kawy przez naszych baristów. Wszystkie kawy przygotowujemy na bazie legendarnej mieszanki Mocha Italia. Ziarna wypalane są metodą wolnego palenia, dzięki czemu aromat jest pełniejszy, a smak głębszy. COSTA COFFEE to nowa jakość. To doskonałe menu śniadaniowe, chrupiące, świeże i zdrowe bagietki. To przygotowywane w piecu posiłki lunchowe. To wyborne quiche'e dla zabieganych i niskokaloryczne minisałatki dla dbających o linię. W kawiarniach COSTA COFFEE nasi Goście znajdą swoje ulubione napoje kawowe, m.in. wszystkie CHAI Latte (żółw, tygrys, orka), Strawberry Extreme, Mango Delight oraz Very Wild Berry, mrożoną latte, White Chocolate Mocha, Sticky Toffee Cooler. COSTA COFFEE to wykwalifikowani bariści i przyjazna atmosfera. To miejsce na miłą pauzę w ciągu dnia oraz nowa jakość twojej ulubionej kawy.
Practical Links :
Opening Hours
Monday

· From 10:00 AM to 10:00 PM


Tuesday

· From 10:00 AM to 10:00 PM


Wednesday

· From 10:00 AM to 10:00 PM


Thursday

· From 10:00 AM to 10:00 PM


Friday

· From 10:00 AM to 10:00 PM


Saturday

· From 10:00 AM to 10:00 PM


Sunday

· From 10:00 AM to 9:00 PM

Practical Links :
See all offers
*Offers are subject to availability. Offres can not be redeemed in cash. Only one offer per person and visit is allowed. Offers can not be used in combination with other offers and vouchers. Offers ar not valid on purchase of gift cards or other prepaid payment products.
---