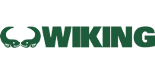 Wiking
Open today
From 10:00 AM to 10:00 PM

22 331 29 76
Wiking to sieć restauracji w Warszawie, w których można zdrowo i smacznie , a jednocześnie szybko zjeść. Wszystko co najlepsze w polskiej kuchni znajdziesz w menu: duży wybór doskonałych ryb z grilla, z patelni lub gotowanych, pieczonych mięs, dań wegetariańskich, domowych zup, warzyw i sałatek, ręcznie robionych kopytek i pierogów z różnymi farszami a także wyśmienitych deserów. Kuchnia Wikinga bazuje na wysokiej jakości surowcach i tradycyjnych recepturach. Wszystkie dania przygotowywane są z najwyższą dbałością o walory odżywcze i smakowe.
Dla naszych Gości Wiking przygotował wyjątkowe oferty:
dwa zestawy obiadowe do wyboru: drugie danie w cenie 18,00 zł + zupa za 3,90 zł lub domowy kompot za 2,00 zł
atrakcyjne zestawy Fit zawsze ze świeżo wyciskanym sokiem w cenie 23,00zł
super rabat -30% na godzinę przed zamknięciem lokalu,na całe menu z wyłączeniem napojów i alkoholu
weekendowe zestawy dla dzieci z niespodzianką.
Opening Hours
Monday

· From 10:00 AM to 10:00 PM


Tuesday

· From 10:00 AM to 10:00 PM


Wednesday

· From 10:00 AM to 10:00 PM


Thursday

· From 10:00 AM to 10:00 PM


Friday

· From 10:00 AM to 10:00 PM


Saturday

· From 10:00 AM to 10:00 PM


Sunday

· From 10:00 AM to 6:00 PM

See all offers
*Offers are subject to availability. Offres can not be redeemed in cash. Only one offer per person and visit is allowed. Offers can not be used in combination with other offers and vouchers. Offers ar not valid on purchase of gift cards or other prepaid payment products.
---